Meeting the German Language Services team in Seattle
My name is Jim Cohen, and in May of this year I joined the staff of German Language Services as the Head of Business Development. Recently, I had the opportunity to spend a week working with my new colleagues at the company's headquarters in Seattle, Washington. It was great meeting the team on the West Coast and learning more about them, the company, and Seattle, which is a great city and a nice change of pace from New York, where I live. I'd like to share some of my experiences while I was in the Pacific Northwest.
Team photo shoot
My trip started with a photo shoot for the team in Seattle. Due to the growth of the company, we're updating the employee profile pictures on the company website, and we decided to make a day of it with a photo shoot near Seattle's famed Space Needle and the nearby Museum of Pop Culture (known as MoPOP).
We had a lot of fun getting to know each other while the photographer took photos of the members of the Seattle office (the teams in Cologne and New York will have separate photo shoots in their respective cities – showcasing how GLS is both international and local). Afterward, we went to the Belltown neighborhood for our first official team dinner at Black Bottle, a gastropub with inventive cuisine.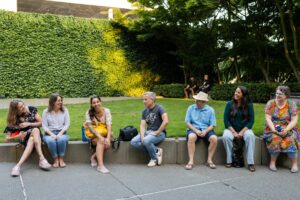 First day in the office
Monday was my first day in the Seattle office. The office is located in West Seattle, a small but vibrant community just over the West Seattle Bridge from downtown. I hadn't worked in an office in nearly a decade since striking out on my own as a freelance translator and writer, but the team made me feel right at home. The first thing I saw was a sign welcoming me to Seattle.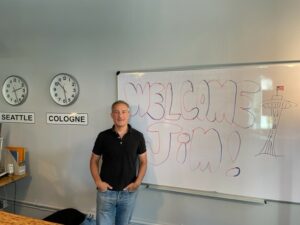 The GLS team in Seattle is a small, but close-knit group and we enjoyed lunch together at Marination (with a view of the Seattle skyline!). Then, they showed me one of Seattle's best-known delicacies – a delicious cup of coffee from neighborhood coffee shop Sound and Fog.
Group outing to see a Mariners baseball game
Later in the week, most of the Seattle team got together for a Seattle Mariners game. On Friday evening, we met up outside the baseball stadium and filed in with the rest of the Mariners faithful. It was a close game, but the hometown team eked out a victory over the visiting Cleveland Guardians in the bottom of the 11th inning, winning by a score of 3-2.
To top it all off, there were fireworks to celebrate the induction into the Seattle Mariners Hall of Fame of Ichiro Suzuki, the Mariners' former All-Star outfielder. It was a memorable game and a great GLS team event.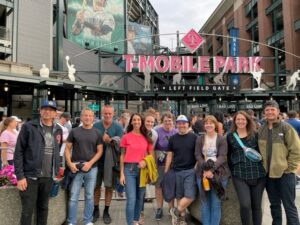 Capitol Hill
On Saturday night, a group of us met for dinner at Ciudad in the Georgetown neighborhood, which is filled with industrial warehouses and funky restaurants and bars (a bit like Williamsburg in Brooklyn). Ciudad has some really inventive food and cocktails, and everyone really enjoyed the experience there.
After dinner, we ventured to Capitol Hill, where our colleague Geoff was playing a gig with his band Fotoform. Several members of the team sported the band's T-shirt and we danced into the wee hours to the songs from the band's latest record. Which was a problem for me since I had plans to go for a run the following morning. Fortunately, I had support from my colleagues…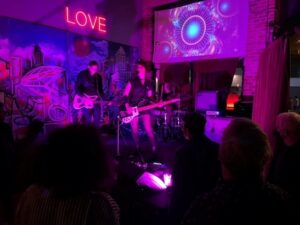 Seattle group run
One thing everyone knows about Seattle is that it rains a lot. But what people may not realize is that it actually rains less than in New York – 37 inches versus 47 inches per year. In fact, the weather in Seattle during the summer is just about perfect. Warm and dry. I lucked out and have enjoyed sunshine every day I was here.
Another thing people may not know is that Seattle – especially West Seattle, where the GLS office is located – is very hilly. In fact, they are not really hills, but small mountains. As I can attest after having tried to run up several of them (and walking most of the way)!
Despite the mountains, er, hills, I met up with my coworkers Jamie and Karo on Saturday morning for a short run that turned out to be longer than expected. Karo picked me up and we drove to the east side of West Seattle for what turned out to be a 10K run through forests and up and down hills. It was a real workout, but fortunately, there were donuts from 9th and Hennepin Donuts and coffee afterward.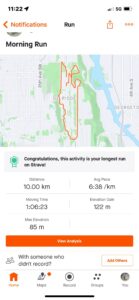 Auf Wiedersehen
It was great meeting my colleagues in person and experiencing the city of Seattle with them. I not only had a chance to learn more about Seattle, but I also got to know my new colleagues and had a great time in the process. While remote work presents some challenges, having a chance to meet people in person really makes all the difference. I'm looking forward to hosting them the next time they're in New York. Thanks to everyone for making my week in Seattle so wonderful!